Want the best & most POWERFUL My Hero Academia Quotes from the most emotional moments of Boku No Hero Academia? The moments where you felt their hardships, and see how they can rise from the occasion, given really rough circumstances. That is my favorite thing about anime in general, and My Hero Academia has just that.

So without further ado…
Inspirational My Hero Academia Quotes
"Even trash has its pride. If someone has expectations for us.. then we need to meet them."
(Season 4 Subbed, Episode 71, 14:12)
Tamaki Amajiki Quotes
Hero name: Suneater
"I'm someone who eats even the Sun. That's why I'm Suneater."
(Season 4 Subbed, Episode 71,16:50)
This was one of the greatest moments for in the competition against other schools. When Iida inspired Navel Laser to actually give it his all. It's such a tear-jerking moment with such a great lesson in it.
(Season 3 Dubbed, Episode 1813:28)
Shoto Todoroki / Shouto Quotes:
(轟とどろき焦しょう凍と Todoroki Shōto)
Todoroki actually says this to Midoriya. when Midoriya needed help getting through to Kota, because he seemed to want to help Kota. But he wasn't able to get through.
2. This was quite a relatable moment for me, because growing up, I had denied using my father for any sort of help in my future or career. So I'm really able to relate to Shoto here.
3. This is such a great quote for us to remember in times when we forget why we're doing what we're doing. When we're tired, and exhausted and thinking about giving up.
Shoto Todoroki Sticker –
'Become the Hero you want to be.'
Designed by QuoteTheAnime
Shoto Todoroki Sticker – Become the Hero you want to be.
$4.71
Overhaul Quotes:
Kai Chisaki. The young head of the Shie Hassaikai.
1. "Do you have a plan? A goal with no plan is called a delusion.
What'll you do after gathering power that you can't control? You need a plan in order to achieve your goal… and I have a plan. I didn't come here today because I wanted to join you.
In order to execute my plan, I need a lot of money. I"ll show you how well I can use you. and then, I'll become the next leader.
(Season 4, Sub Episode 65, 6:30)
"A goal with no plan is called a delusion. You need a plan in order to achieve your goal."

Tweet
This really shows how a person can actually motivate people around them to do better.
(Season 3 Dubbed, Episode 19, 12:37)
"Hey, Togata, even if you regret something and get depressed, nothing will change… did you know that?"
(Season 4, Episode 69, 19:03)
Nighteye/Mirai Sasaki Quotes
Nighteye says this to Midoriya in the middle of the duel, when Deku was trying to get the stamp from him to be able to get approved for the work study under the Nighteye Squad.
"Those who stand at the top should not show indecision or worry."

Tweet
Nana Shimura Quotes:
(志 (し) 村 (むら) 菜 (な) 奈 (な) Shimura Nana)
The epitome of a true hero. The fact that we have to smile to empower others. To show them, we are fine and we are great, specially and more importantly in times of hardships so the people who follow us and look upto us can feel confident.
~Nana Shimura
1. As evil as he was. I agree with this quote of muscular. Funny enough Deku was able to keep his promise and actually defeat Muscular after he said this line.
~Muscular
"Wanting to do what you can to help those in trouble …Is part of the basics for a hero.. Right?"

Tweet
(Season 4, Sub Episode 65, 19:30)
"My powers only strong because I made it that way."

Tweet
(Season 3 Dubbed, Episode 25, 14:07)
This is brilliant, he shows people that your distinct difference might be the thing that makes you amazing. He used his thoughts and imagination to find a way to make it shine.
(Season 3 Dubbed, Episode 25, 15:08)
"Pros can get hurt and sometimes they end up watching people die. But every scary and painful thing you go through is an important experience you can't get inside a classroom. Even at UA. I transformed the experience I got in my work study into power. That's how I got to the top spot. And it's why I think they're worth it, even if you're scared. You with me first years."
(Season 3 Dubbed, Episode 25, 15:30)
Watch Who is Deku's father? Theory
"You only know bits and pieces about these guys. Don't insult what you don't know"
(Season 3 Dubbed , Episode 18, 10:00)
Izuku Midoriya / Deku Quotes:
1. (This took place, when Midoriya was younger and his friend was being bullied by Bakugo, and his 2 other friends.)
Bakugo and his 2 other friends used their quirks and beat up Midoriya. When he lay on the ground beat up by Bakugo, and the 2 others.
That when he realized this and thought to himself that..
2. This happened when Midoriya was fighting Muscular to save the kid (Kota).
Muscular was telling Kota how he killed his parents, and then meanwhile Midoriya was sneaking up on Muscular to give him a smash, but then Muscular already knew he was coming.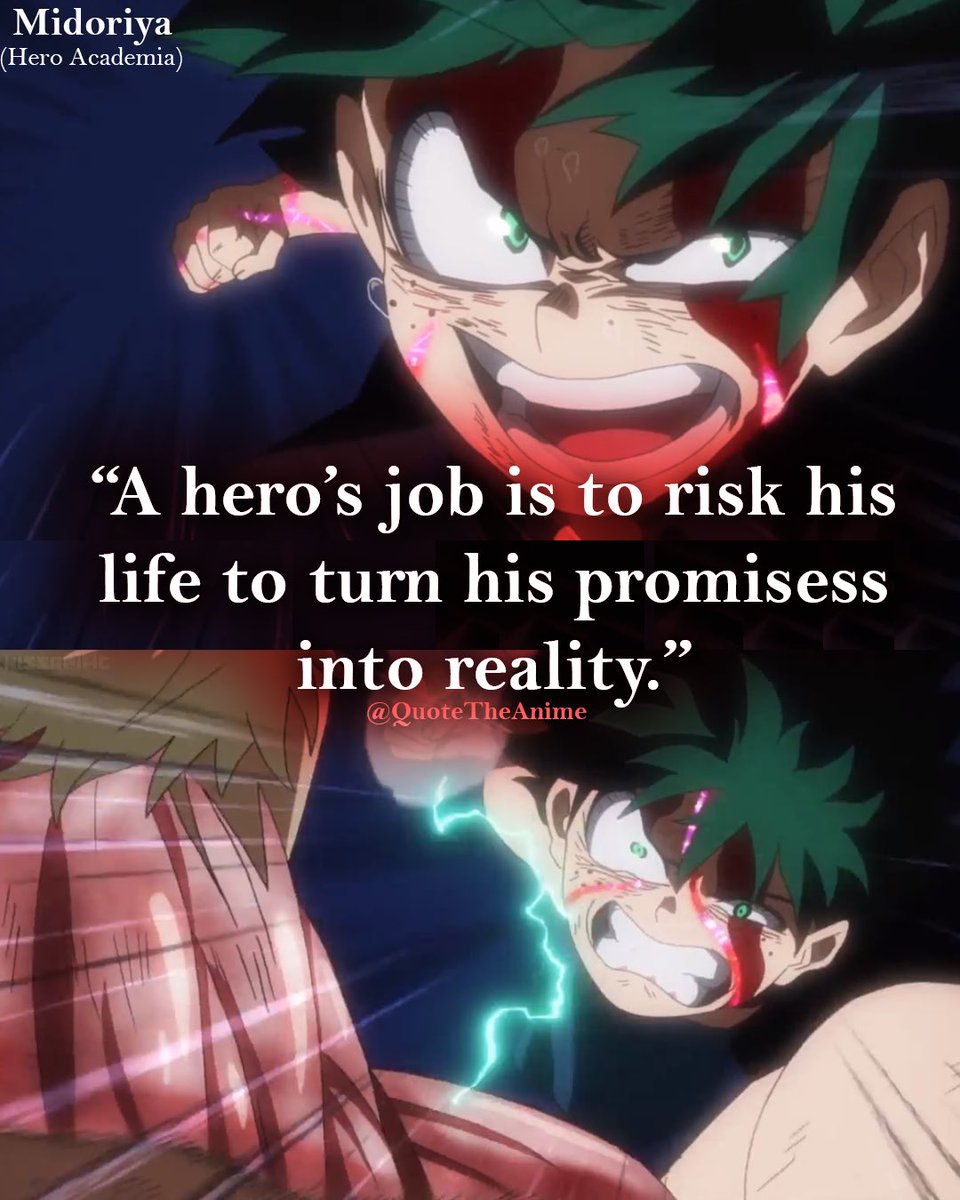 3. This happened when Bakugo had been captured by Dabi and his gang.
4. We can see from this quote, that we can always find another solution, if one that we used previously is not available anymore.
5. This quotes screams the dreams that we all carry within us, since we were children. To become a hero for other people.
Endeavour | Enji Todoroki Quotes:
(轟とどろき炎えん司じ Todoroki Enji)
1. Endeavour says this to All Might, while he's fighting All for One. This is when endeavour has a flash-back of his history with All Might, and how he was never able to close the gap between the strength differences of him and All Might. It was such a teary eyed moment to all me, becaus Endeavour had never shown such vulnerability ever.
~Endeavour
2.
(When Enji Todoroki was given the Number 1 Hero spot because All Might was no longer able to be a Hero… this is when Endeavour said this.)
~Endeavour
This was such a vulnerable and powerful quote by bakugou. Because he said this to All Might's face, all while he was crying, and in a extremely angry, and sensitive place.
To All Might & Deku, (Season 2, Episode 61)
2. He says this to Midoriya when they're facing All Might, who's playing a villain in their training test at UA.

Check out More Bakugou Quotes Here:
Posted on May 29, 2019 by Ernie
Bakugou Katsuki quotes for all the My Hero Academia Fans. OR Should I SAY Kacchan Quotes for the real Fans. 1. "No matter how much trouble he's in, he always wins…
Funny Bakugou Katsuki Quotes
3.THIS IS EXTREMELY FUNNY LOL. and such a bakugou thing, we all truly got to see where Bakugou got his personality from.
to his Mom, while Aizawa and All Might were at their house, (Season 2, Episode 50)
Bakugou & Mom Sticker
Designed by QuoteTheAnime
$4.35
All Might Quotes:
(八 (や) 木 (ぎ) 俊 (とし) 典 (のり) Yagi Toshinori)
Nobody likes losing, in reality. But if we don't lose, we can't truly learn what our shortcomings are. We can truly see what we lack, and reflect after a loss, so we can improve those shortcomings.
-All Might
2. He says this to All for One.
~All Might
3. This is where we can truly see All Might's unwavering will and spirit shine. He gives it his all to a point, that he was not even willing to let death come in the way of his purpose. Which was to train Midoriya to become a stronger hero, and the new symbol of peace.
~All Might
4. When there's nothing to be gained. Meaning that when we can see no benefit, from being courageous, and we're very scared. When fear is everything we can feel, and we see no common sense, in taking the right action. Taking action then, taking the right action then, even though there is no immediate result from it, is the mark of a truly great hero.
~All might
5. Being the symbol of justice.
~All Might
Aizawa Shota / Eraserhead Quotes:
(相あい澤ざわ消しょう太た Aizawa Shōta),
1. This is a great quote, and a lesson from Aizawa to let us know that we should never quit on our dreams half-way, because it is cruel to do so.
~Eraserhead
2. Aizawa to Midoriya, when Midoriya is super-hurt about not being able to protect and help Eri.
(Season 4, Episode 69, 18:45)
"I'll watch you. If you're going to do this, do this properly, Midoriya. Got that, problem child?"

Tweet
3. Aizawa says this to Emi Fukukado at the Provisional Hero Licensing exam.
~Eraserhead
If you're looking for some My Hero Academia COMEDY, you can also look at:
>>Top 10+ Funny moments My Hero Academia | Season 3 (With GIF's)
1. Pure evil
~One for All
DOWNLOAD Bakugo Wallpaper
Hero Academia Products you might like
My Hero Academia Graphic Novel Volume. 21
by Kouhei Horikoshi (Author)
VIZ Media LLC
My Hero Academia – Amazing Heroes – All Might Figure
Publisher: Banpresto